Let us know how we can pray for you today by submitting the Prayer Request form below and give us your testimonies as well.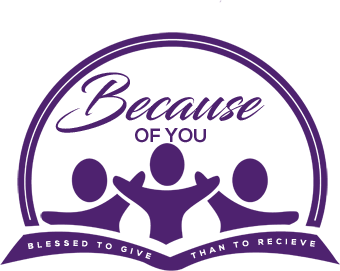 Because Of You
The bible says it is more blessed to Give than to Receive. Acts 20:35. In most cases people always want to be on the receiving side knowing not that whenever you put a smile on another persons face, you attract favor and more blessing from God.
Because Of You ' is a ministry that pairs people who love putting a smile on Children who are suffering. Its a two way giving as you put a smile on another person's smile, you get to smile too.
The ministry releases children from spiritual, economic, social, and physical poverty. The goal is for each child to become a responsible and fulfilled adult.
Our Mission
Our mission is about love. God loves us and we demonstrate our love and live out our faith by
extending care and putting a smile on other
people's faces. We offer our program to the
poorest of the poor, to the children and families
in greatness need without ulterior motive. We
devote ourselves to helping people of all cultures, backgrounds and race. By doing this we are sharing, showing, and extending the love of our savior Jesus Christ.
What Makes Us Distinct
We put Jesus Christ at the center of it all. He is our Help, Provider and source of it all. We minister to Children using our 3Rs


Rescue - Rebuild - Restore
Our Statement of Faith

We believe all scriptures as originally written in the bible as inspired by the holy Spirit.

Salvation is for free and for all who willingly accept Jesus Christ as their Lord and savior who came and died, resurrected, ascended to Heaven and will be back to take us all to Heaven.

The Holy Spirit is our guide as it is written in John 14:26 But the comforter, which is the Holy Spirit, whom the father will send in my name, he shall teach you all things, and bring all things to your remembrance, whatsoever I have said unto you.

Church Partnership

We partner with local churches as a strategic way to reach out to the community.

We believe local congregations are catalysts for community change and optimize the mutual respect, resources and common purpose critical in caring for children

A local church partner is always the implementer of our project child development program.

This is due to our desire to equip the church to fulfill its role as salt and light in the community.

Our Commitment

We affirm the following commitments to each person that.

We commit to Giving Honor and Glory to Jesus Christ as He enables us to preach the Gospel and reach out to the Unprivileged.

Our ministry strengthens the local church through a partnership that reaches out to children and families in their local communities.

We commit to seeing each child going through our ministry having a change and transformation living healthy and having impact in their Communities.

We commit to seeing every Child having a holistic development Spiritually, Socially, Physically and Economically.

We commit to use money only for the purpose for which it was raised. Child sponsorship funds must be used to develop the children who are sponsored. Our Child Sponsorship Program is completely focused on the development of these children.

We commit to give every child in our program a chance to respond to the gospel. Every child who is registered in our program (Because Of You) is given the opportunity to learn about Jesus and discover how to develop a lifelong relationship with God.

We are based in Lincoln-Nebraska, USA but with satellite braches in diffent parts of Africa including Uganda, Kenya and Tanzania
-->